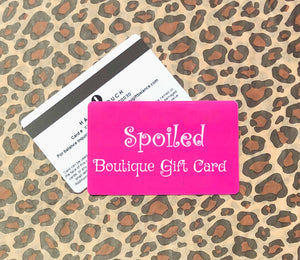 Cant decide what to buy and don't want to make the wrong choice? We have the solution! Guilt Free Shopping! Choose an amount from $30-$300 to load up your love one a Spoiled Boutique Gift Card!
All you need to do is choose a denomination and check out! Once you make your purchase, you will be emailed a virtual gift card and code you can pass along to the recipient. 

Should you need a denomination larger than $300, you can choose to purchase multiple cards or email us at: spoiledboutiquewebsite@gmail.com to request a specific amount.